Frontenac Outfitters 2nd Annual Paddleboard Event and Sale
Join us Saturday, June 10th for a day of walking on water at our 2nd Annual Paddleboard Event and Sale!
The paddleboard event and sale shines the light on stand up paddleboards (SUP) and how they compliment canoes and kayaks. This form of paddling has gained in popularity drastically in the past few years as it offers a unique perspective on the water and a number of health benefits. From mental serenity to full body fitness, SUP's provide advantages both inside and out!
During the paddleboard event and sale you'll learn all about the history and evolution of SUP as well as an opportunity to try your feet on a boards. On land, we'll discuss 'What'SUP' and educate you on the different styles of boards available, their ideal uses, and what's ideal for your uses. On water, there's a free How-To SUP Clinic and a mini SUP Yoga Session! 
Attending the event and lending their expertise is Tuga SUP's owner and shaper, Mauricio Di Bartolomeo, and his wife Lia, a certified SUP Yoga Instructor. Level Six is lending their support to this year's event with their North American Director of Sales, Pat Quinney, joining us for the day. Pat will be on hand showcasing SUP gear and accessories as well as conducting a seminar on inflatable boards. 
Together, we will teach you the basics of paddleboarding including the proper equipment needed and what it takes to be safe and legal on the water. For those interested, you'll have the chance to try SUP yoga and experience a side of fitness unlike anything you'll find in a busy and sometimes intimidating gym environment.
For those purchasing during the paddleboard event and sale, we're offering in-store gear credits to help get you started with SUP. Credits vary depending on make and model, so be sure to ask our experienced staff about what the right choice is for you!
Here's a peek at the breakdown of the schedule for Frontenac Outfitters' 2nd Annual Paddleboard Event and Sale:
What'SUP (10:00am – 11:00pm)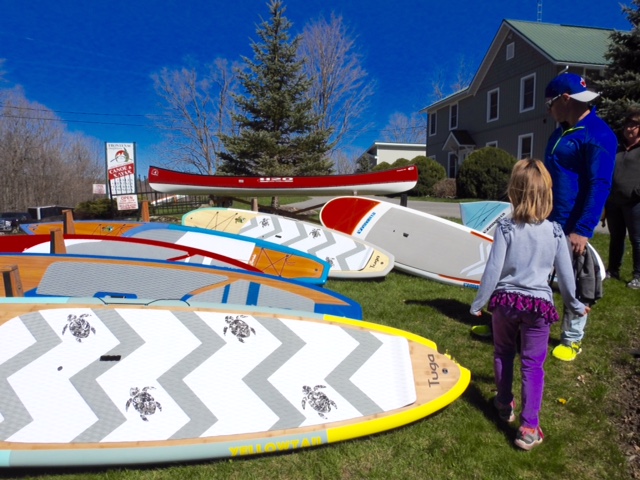 Different boards available and their purposes

Materials of construction including the pros and cons of each

Equipment needed and water safety

SUP paddling clothing 

Proper paddling technique (theory)
Break for Lunch (11:30pm – 12:00pm)
A chance to chat with our paddlesport experts about what's best for you and your needs 
On-Water Demo (12:00pm – 3:00pm) 
How-to SUP seminar including the forward stroke, stance, and basic technique

SUP Yoga session and finding your on-water zen
Important Notes
On-water activities will be rotated in groups to maximize student-to-instructor ratio
We have limited number of demo boards available, so can only get a select number of people on the water at one time 
Folks are encouraged to bring their own board if they have one to help get those without a board to get on the water quicker 
It's recommended to bring a lunch, water, sunscreen, and a change of clothes 
To help us organize the paddleboard event and sale, please send an email to frontenacoutfitters@gmail.com and let us know you're coming! 
We look forward to seeing you on the water! 
Experience a Vastly Superior Purchasing Process
Frontenac Outfitters invites YOU to Paddle With Us
We Stock Hundreds & offer Free Test Paddling Everyday!
Ontario's Kayak Experts since 1984